InVETational
We Are The Mighty, the military's premier media and entertainment brand and Marine Corps veteran, actor and comedian Rob Riggle present the Second Annual Rob Riggle InVETational Golf Classic. The veteran-celebrity golf tournament will once again raise money and awareness for Semper Fi Fund, one of our nation's most respected veteran nonprofit organizations, in support of wounded, critically ill and injured service members and their families.

We Are The Mighty's Rob Riggle InVETational Golf Classic will take place at the world class North Ranch Country Club in Los Angeles on Dec. 4th, 2017. During this exclusive golf tourney, veteran and celebrity teams contend for the lowest scores and most laughs to raise funds and awareness for the renowned Semper Fi Fund. Semper Fi Fund provides immediate and lifetime support to post-911 wounded, critically ill and injured service members from all branches of the military. Since inception, Semper Fi Fund has assisted over 18,500 service members and their families totaling more than $150 million in assistance to veterans and their families. Semper Fi ("always faithful") is the motto for the U.S. Marine Corps. Semper Fi Fund's goal is to always be there faithfully helping Heroes in need.
Big Slick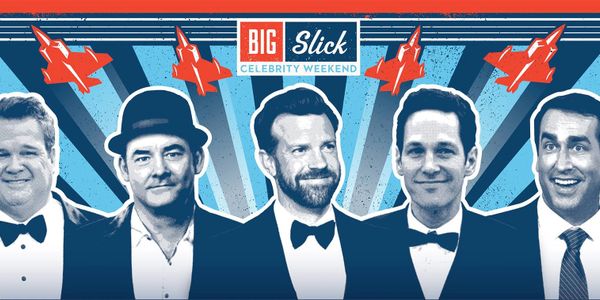 Back in 2010, Rob Riggle called fellow Shawnee Mission graduates Paul Rudd and Jason Sudeikis with an idea. "Let's host a poker tournament to raise money for Children's Mercy." Without hesitation, they each agreed and immediately called upon their family and friends to help pull it off.

With only nine weeks of planning, the Big Slick Celebrity Weekend was born. And friends like Will Ferrell, Director Adam McKay, Bobby Cannavale, George Wendt and SNL Alum Will Forte helped raise over $120,000. Since then, the guys and other celebrity guests have raised more than $4.5 million through sponsorships, a live auction and an online fundraising campaign. Because the entire event is planned and supported by the volunteer efforts of the family, friends, and the help of Children's Mercy staff, Big Slick tries very hard to keep expenses to a minimum and dollars directly to the kids at a maximum.

But the benefits have not just been financial. Over the years, the attention that Big Slick has brought to Children's Mercy has helped with their recruiting efforts attracting top medical and research talent. Big Slick also helped to expose an even larger audience to the nationally recognized work being done at the Cancer Center.

In recent years, Rob, Paul and Jason invited Big Slick alumni and area natives Eric Stonestreet and David Koechner to join them as hosts. Together the five of them, along with their families and friends, are hard at work planning this year's event. Through patience, creativity and a whole lot of fun, Big Slick is once again, making an impact on the lives of children and their families in one of the community's most valuable assets.